The Biology of a Belief
I can access your Subconscious Beliefs that you may not even know existed.
These beliefs are located in the meridians seen below as the location of the possible Unconscious Thoughts that are running or ruining your life.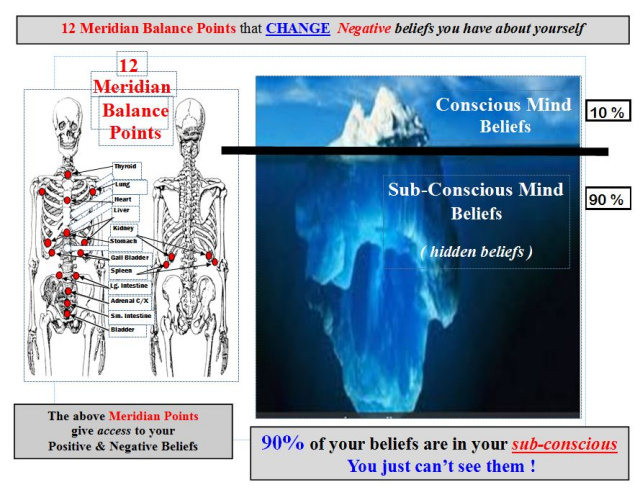 With your PERMISSION, I can access and find your hidden unconscious beliefs you have that are an underlying current / stream running your life.
I can check your belief's by using a pendulum to get answers to your underlying core beliefs.
Below is a chart of the belief's that are associated with the 12 meridians (the boxes) of the human body.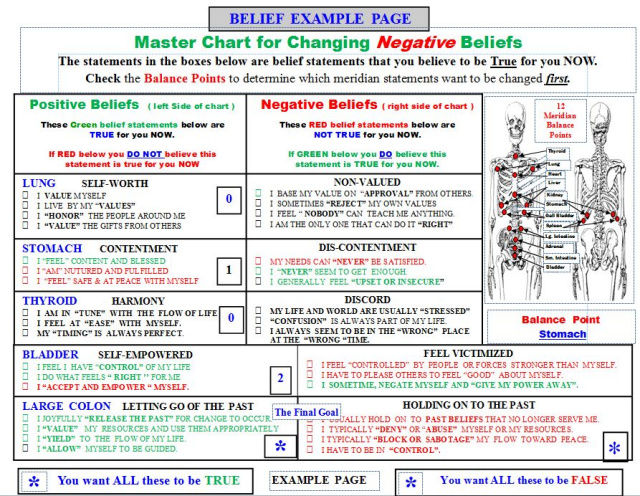 At this point, I will have accessed your sub-conscious beliefs about what you currently believe to be true for you.
I then create an affirmation to change any negative beliefs you may have hidden in your sub-conscious to positive belief statements which changes your negative belief's.
Then we do the negative belief restructuring technique to switch you into a positive mode for living your life in a different way, a positive way to attain your dreams & visions.
If you are interested in finding out what your sub-conscious beliefs are about your life:
Call Roger Denisewicz: 808-855-8272
Email: yourbodycanheal@gmail.com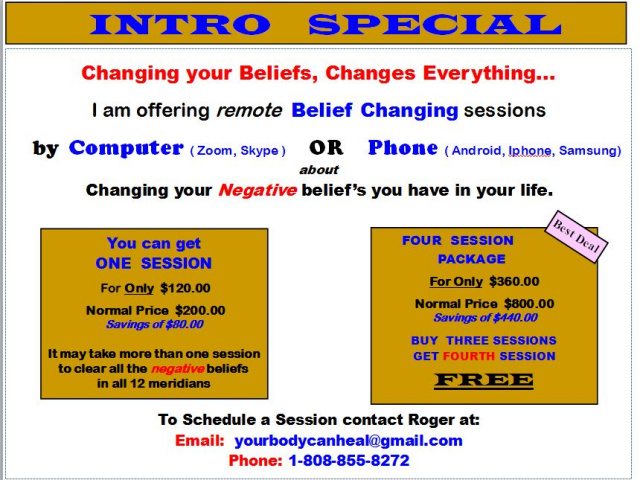 Payment for Sessions
Ready to book your sessions ?
Go to these 2 links below to pay for your sessions.
Click here > One Session
Click here > Four Sessions
After your payment is completed, I will call you to set up your session
On the Computer
I will do a LIVE "ZOOM" session with you on the computer.
or
By Phone
I-phone, Android, Samsung
I can also do your session at my office and call you with my "Results of Findings"
COST: $120.00 for (one session) Save $80.00
COST: $360.00 for ( four sessions) Save $440.00
Go to this LINK to pay for your session. I will then call you to set up your session
"I look forward in getting you to the place of consciousness you want to go"
Roger Denisewicz